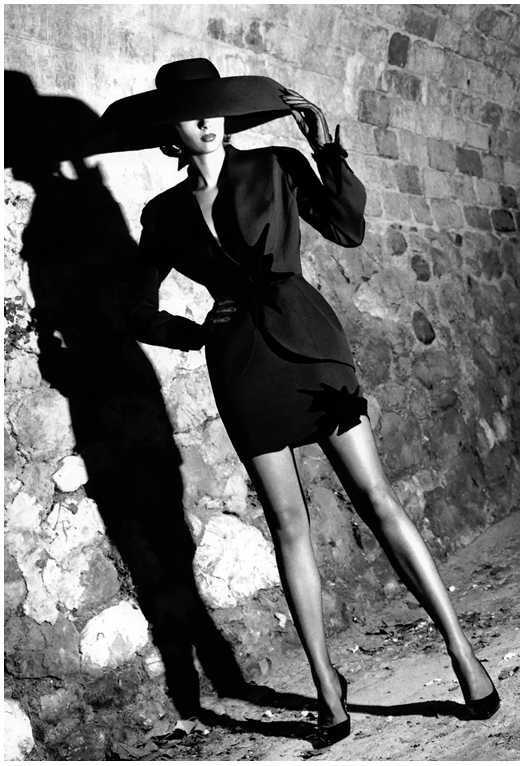 Known for his spectacular runway shows and fetishistic style, Thierry Mugler helped to define fashion for over two decades. Starting off his career designing for legendary avant-garde Parisian boutique Gudule in the late 60s, Mugler soon moved on to creating collections under his own eponymous label for which he'd stage fashion spectacles featuring outlandish and wildly ostentatious ensembles. From otherworldly creatures with feathered headpieces to space-age pastel-hued bubble wigs and hair fashioned into devils horns, season after season the beauty looks were a treat for the eyes as models were transformed into the wildest of fantasies. "My reason for working is to make people dream," the enfant terrible of fashion told the New York Times in 1990.
For over two decades, Mugler was a reigning force in fashion, an enfant terrible who defied bourgeois sensibilities with his spectacular looks and magnificent, sometimes almost hour-long runway shows. "I have always been fascinated by the most beautiful animal on the Earth: the human being," Mugler revealed on the occasion of the exhibition's announcement. That fascination led him to create clothes which transformed the wearers into futuristic femme fatales, whose superpowers were seduction and self-assurance.
Equal parts innovator and iconoclast, Mugler's designs became works of art, sculptures to be donned by divas, goddesses, and primadonnas who could transform into exotic creatures, erotic enigmas, and fantastical archetypes – perfectly timed with the rise of supermodel in the late 80s and early 90s. In shows that were more like dramatically orchestrated performances than what we see on the catwalk today, all the legends walked in Mugler's famous creations – Naomi Campbell in one of those chrome and fibreglass car bodies, Cindy Crawford in a bondage bodysuit with nipple tassels, Linda Evangelista in a sequinned wig and gown, Eva Herzigova surrounded by red feathers... the list goes on.
Although he left the label in 2001, Mugler's legacy has endured and his influence continues to resonate through the industry and pop culture (see Cardi B at the Grammy's this year or Kim K's recent cut-out vintage dress). And now the Kunsthal Rotterdam is celebrating the work of Mugler with a new exhibition – the first solo exhibition of the French designer's work – showing over 130 of Mugler's most iconic designs from 1973 to 2001.
To mark the opening of Thierry Mugler: Couturissime we have collected the most amazing collection of vintage Mugler garments. Having spoken with the designer himself in Rotterdam; 035Vintage was left so impressed by the designer's remarkable speech, prescence, knowledge and wit, that we have decided to make it our mission to collect the most highy coveted of rare Mugler pieces.
OUR THIERRY MUGLER ITEMS:
Thierry Mugler Brown Wool Longsleeve Wasp Waist Skirt Suit

Thierry Mugler Brown Wool Longsleeve Wasp Waist Skirt Suit.

Pink skirt suit accented with long sleeves and synched hip details from Thierry Mugler: single breasted jacket with no collar details in front. Three snap closures at…

€ 345,00

Thierry Mugler Pink Wool Longsleeve Skirt Suit

Thierry Mugler Pink Wool Longsleeve Skirt Suit.

Pink skirt suit accented with long sleeves and faux hip details from Thierry Mugler: single breasted jacket with lapel details in front. Two snap closures at centre. Mini side…

€ 395,00

Thierry Mugler Navy Blue Asymmetric Synched Long Sleeve Jacket

Thierry Mugler Navy Blue Asymmetric Synched Long Sleeve Jacket.

Blue jacket accented with notched lapels from Thierry Mugler: single breasted jacket with hip details and cuff details. 4 snap closures on the front. Main fabric is…

€ 695,00 € 389,00

Thierry Mugler Black Wool Stand Up Collar Long Sleeve Blazer

Thierry Mugler Black Wool Stand Up Collar Long Sleeve Blazer.

Black wool jacket accented with stand up collar from Thierry Mugler: single breasted jacket with no lapel detail on the collar. 4 snap closures on the front. Open…

€ 495,00 € 389,00

Thierry Mugler Black Knee Length Detachable Sleeves Dress

Thierry Mugler Black Knee Length Detachable Sleeves Dress.

Black knee length dress with open pockets from Thierry Mugler: single breasted jacket with shawl collar detail. 8 snap closures on the front. Reveals a chiffon short…

€ 650,00

Thierry Mugler Black Pinstripe Wool Manderin Collar Blazer

Thierry Mugler Grey Pinstripe Wool Manderin Collar Blazer.

Black pinstripe jacket accented with open pockets from Thierry Mugler: single breasted jacket with manderin collar detail on the collar. 7 snap closures on the front.…

€ 695,00

Mugler Black Tribal Neck Wool Sleeveless Peplum Top

Mugler Black Tribal Neck Wool Sleeveless Peplum Top.

Black-coloured wool sleeveless top that uses a tribal inspired neckline at the top. Featuring a symmetric silhoutte, openings to the sides and built-in corset. Pair yours with…

€ 195,00

Thierry Mugler Couture Leopard Print Jacket

Thierry Mugler Couture Leopard Print Jacket.

Silk jacket with an all over leopard print. The jacket has 3/4 length sleeves with gentle rouching and black silk coated buttons at the end of each sleeve. The jacket is gathered in…

€ 689,00

Thierry Mugler 2-pcs Suit Jacket & Skirt - olive green

Tweedelig pakje van Thierry Mugler in olijfgroene zijde met glans. Een vintage droom!

Het jasje heeft een rechte halslijn en sluiting aan de voorzijde met verborgen drukknoopjes. Een getailleerd model met 7/8 mouwen. Geheel…

€ 875,00